TAG Time and Attendance
TAG TA | Times Zones
How to Access the Time Zones Page?
The Time Zones page is accessible from the navigation bar, as indicated in the screenshot below.

When the Time Zones option is clicked, a new page opens automatically and allows for editing time zones.
How to Create and Edit the Time Zone?
Tips: why do we set up the time zone in Time and Attendance even though we already have a general BC time zone setting in the main menu?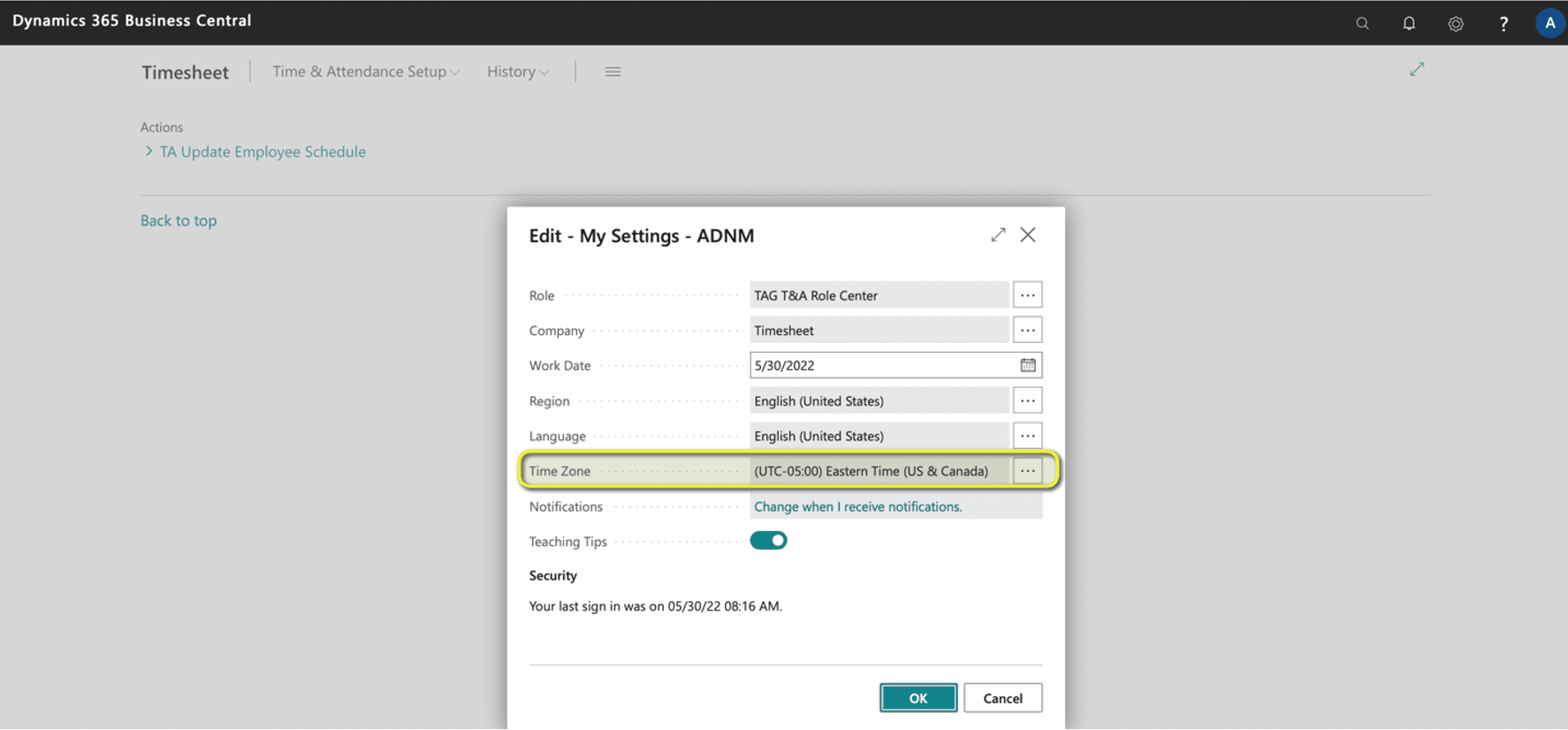 It is because, in a Business Central setting, the time zone will automatically adjust when winter comes to summertime. In Time and Attendance, we need a more precise setup to help TAG calculate the offsets of each day.
When the Time Zones option is clicked, a new page opens automatically and allows to create new time zones. It includes the following fields:
Time Zone: Name given to the time zone (e.g., CET – Centre European Time);

Time Zone Description: Place where it locates (e.g., CET);

• UTC Offset: Enter the reference UTC (e.g., 1.00)
Information about this menu:
We have one company, in our case CRONUS CANADA company (sometimes in screenshots, we use Timesheets company too); we can have multiple regions related to this company. Each part can have the same or a different time zone. This allows users to manage a company that contains other areas, and each one has its time zone.
How to Set Time Zone Offset?
Time zone offset defines the time offset for each time zone that can be changed on some specific day each year. As you know, we adjust one hour: forward one hour (summertime) or backward one hour (wintertime).

---

Important Note:
Relationship for Region code – Offset time – TA employee (VSD Employee) card Region code makes the connection with offset for each different region. In TA Employee Card (VSD Employee), we could set up each Employee with a different Region code. It helps TAG use the different local offset and holiday set up for each Employee. Reference page: for Employee Group page later in this article, TA Employees page later in this article)

We need to set up a time zone offset before creating the timesheet period for each TA Employee Schedule. Tips: The time zone setting doesn't go against each Employee Group; it is against each TA Employees. It makes everyone in TA Employees can work for different regions and zone offset; the people in the same Employee group could be working in the other areas and zone offset.